Guidelines
Adding and Removing Devices
Computers can be added to and removed from your account at any time. Just let us know if you would like to add a computer and we are happy to install our agent and add it to your account. Computers must stay on your account for at least one billing cycle before they can be removed. There will not be a prorated refund for computers removed before the end of the billing cycle. Computers will stay on your account until you request that they be removed. You can make that request by emailing support@thecomputeradmin.com or accounting@computeradmin.com.
Computers that were not purchased through The Computer Admin will incur a $150 fee plus any necessary licensing to prepare them for use in your environment. Computers that were previously on your account will not incur a fee to be re-added.
Submitting a Support Request
Support requests can be submitted by clicking on the icon in the system tray, emailing support@thecomputeradmin.com or, if it is an urgent matter, by calling our support number at 619-713-7422. You may also request access to the support portal where you can make a support request and track its status. We will not be able to respond to requests made through any other channels.
Support tickets are typically responded to in eight business hours or less depending on the issue. However, there may be circumstances where it may take longer. Please see the below table for general response times. We ask that new user requests be submitted at least three working days before the user starts.
You'll receive a ticket confirmation when you submit a request. Please respond to the original support request confirmation if you have additional details you would like to add.
Emergency and after-hours requests can be submitted by phone. Please follow the prompts to be connected to an emergency technician. Please note there may be an additional fee incurred when using the emergency support line.
Equipment Purchases
The Computer Admin works with top brands to offer modern electronic equipment including desktops, laptops, networking equipment, and accessories. We're happy to help you find products to meet the needs of your business.
When you purchase from us, we typically have the hardware sent to us so we can configure it for your environment. While we strive to get products to you as fast as possible, there may be unforeseen supply constraints and shipping delays which can extend the delivery ETA. We will work with you to find alternatives if a product you select is subject to such delays.
Most devices can be returned for a full refund if they are shipped directly to you and are unopened. Opened items and items that are custom configured, such as servers, cannot be returned.
Data
We understand how important your data is to the success of your business. It is your responsibility that crucial data be backed up whether it is data on your servers and endpoints or data in your cloud. We offer several backup solutions to help secure your data.
Shipping
The Computer Admin can ship devices to your users on your behalf. We will choose ground shipping with national carriers unless you request otherwise. We will charge the shipping fee plus a 20% handling fee to your account.
Stable Connection
We require that a user have access to a reliable internet connection while we attempt to troubleshoot and resolve issues. We may ask that the device be delivered or shipped to us if a reliable internet connection is not available.
Repairs
We can service some components of most computers like hard drives and RAM, for instance. However, as computers get more efficient, they become more difficult to repair. Therefore, we must reach out to the manufacturer or specialty repair centers for certain types of repairs. We are happy to work with the manufacturer or the repair center to get you the best support available. These repairs may involve shipping the computer to the manufacturer or having a third-party technician come on-site, depending on the support options available. Please be aware that some repairs may take several days during which the device may be unavailable.
Hot Spare
The Computer Admin strongly recommends making available a desktop or laptop less than five years old that can quickly be used in the case that an employee's workstation becomes unusable due to breakdown or repair.
Estimated Response Times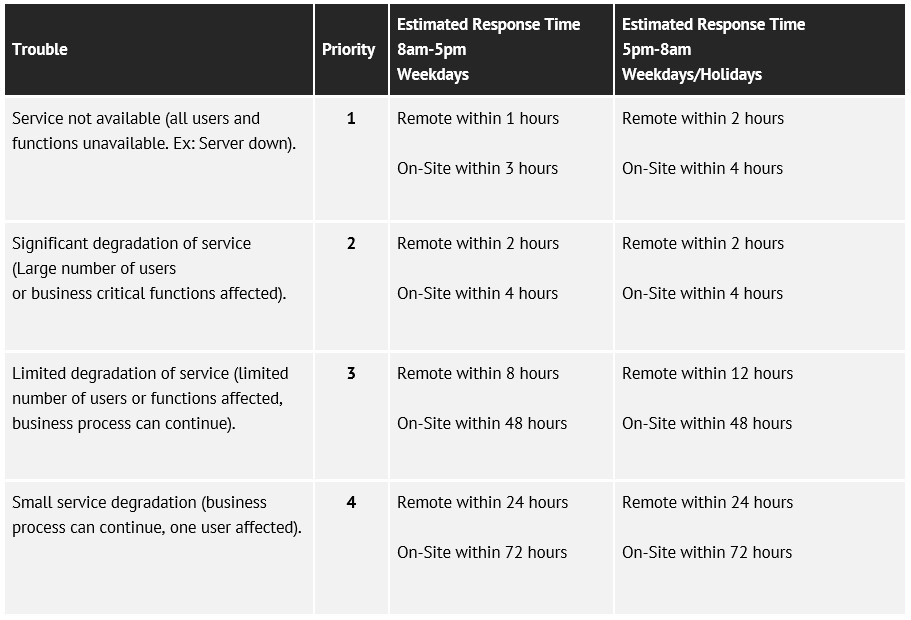 *For same day services on priority 3 and 4 tickets must be entered before 4pm.
**Clients may request a specific technician however MSP will at its discretion assign a technician to address a service ticket or project work.
***Priority 1 is considered an emergency and will not incur an after-hour fee.